Welcome to the Official Website
Hello, my name is Mitsunari OKAMOTO. I am a member of House of Representative in Japan and also a member of Komei Party.
Welcome to my official Website.
I made the determination to work for the government when I was working as an international financial field. The most important reason for making such decision was that I had faith in the potential and bright future of Japan. We have good people, resources and money. If the politics could strategically steer the country, we can create new value from what we already have and yet-to-be utilized. That is the responsibility of politics.
I would like to report my activities and more importantly would like to hear your opinions in order for us to rebuild Japan. I promise with you that I will put my utmost effort for my task and responsibility as a politician.
Profile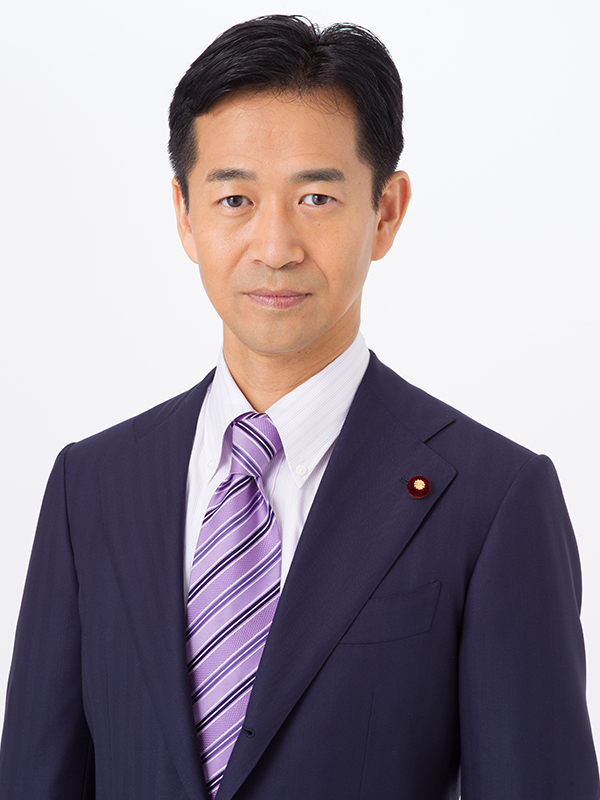 Office

1-1005, Members' Office Bldg, 2-2-1, Chiyoda-ku Nagatacho, Tokyo, JAPAN, 100-8981

Tel

+81-3-3508-7147 (ex.51005)

Fax

+81-3-3508-3637

Mail

office@m-okamoto.jp

Birth date and Place

May 5, 1965, Saga prefecture
Work Experience
October 2018 –

Director of Committee on Cabinet, House of Representatives,
Director of Committee on Science and Technology, and Innovation, House of Representatives

August 2017 – October 2018

Parliamentary Vice-Minister of Foreign Affairs

December 2012 – Present

Member of the House of Representatives (Third term)

1998 – 2012

Goldman Sachs (2005- Managing Director)

1989 – 1996

Citibank
Education
1998

MBA, Kellogg School of Management, USA

1989

BA, Soka University, JAPAN

1988

Glasgow University, UK
Achievements
March 2014
as a member of Foreign Affairs Committee
Building a friendship with dignitaries, including the top of the international organizations and nations, Okamoto has developed an active diplomacy in about one year since he was first elected.
He also visited India twice and the United States of America to meet and exchange ideas with leaders in financial, political and social fields.
January 2014
In order to save students from interest repayment, Okamoto's effort for a non-interest-bearing scholarship was decided and will be implemented from next year!
In the fourth subcommittee of the House of Representatives Budget Committee held on April 12, 2013, Okamoto asked about how the country can save those students and young scholars suffering from interest repayment.
And Okamoto strongly requested the expansion of interest-free scholarship, the reduction of interest on arrears rate. Pull out a positive answer from the Minister Shimomura, Okamoto made overtures to the Ministry of Education as Komei Party.
As a result, the Ministry of Education budget for FY2014 increased the number of interest free scholarship to 56000 students in which that half of overdue interest and term extension was included.
2013年11月、日中友好を呼びかけた質問が高く評価!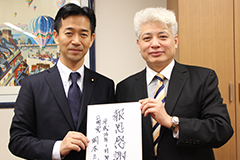 March 2014
as a member of Foreign Affairs Committee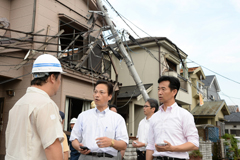 On September 2, Okamoto rushed to Koshigaya, Saitama prefecture where was the foremost in tornado-affected area right after he received the first report about the disaster. Okamoto encouraged those who severely affected by the tornado, and he also examined damage situation.
Next day, Okamoto had a hearing from the Cabinet Office regarding victims support measures of "Disaster Relief Act" and appealed to the disaster countermeasures office of the party for the combined improvements of insufficient current system directly. Then Mr. Inoue, the secretary general of the party, made questions in the House of Representatives plenary session of October 27 regarding the tornado that hit Koshigaya City and Matsubushi town of September 2, pointing out the lack of victim support system, and strongly requested sufficient improvements.
Mr. Inoue's question was based on my appeal that there is a regional difference in the support even with the same degree of damage by natural disasters. In response to the question, Prime Minister Abe, answered that he will consider the review in order to make a better system in the future.
August 2013
After hearing the appeal of supporters, Okamoto immediately made a proposal to the office of prime minister regarding the crude oil soaring measures immediately.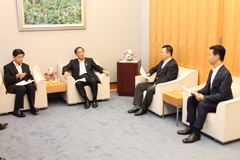 When the price of gasoline reached more than 160 yen for the first time in almost 5 years on August 7, Okamoto received a post from one of the party supporters in which the person appealed difficulties due to high gasoline rate, Okamoto made a proposal to the party executives on the next day. The party immediately opened special committee on oil prices problem, and soon after made an official appeal to the office of the Chief Cabinet Secretary on August 28.
August 2013
To strongly support the activities of JICA (Japan International Cooperation Agency), Okamoto realized the recognition of members of Japan Overseas Cooperation Volunteers who are the glass-root ambassadors. In addition, Okamoto invited the newly appointed president of JICA, Mr. Tanaka to the committee of foreign affairs of the House of Representatives for the first time.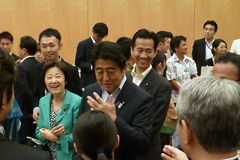 In intensive discussion of Budget Committee of March 28, Okamoto asked to Prime Minister Abe to make special recognition to show appreciation for those who went oversea countries including dangerous areas as volunteers who can be called as standard-bearer of private diplomacy.
Additionally in the Foreign Affairs Committee of May 22, Okamoto invited Mr. Tanaka for the first time since taking the office as a President of JICA, and expressed his gratitude and support for the activities of JICA. On August 1st, appreciation party was held hosted by Prime Minister Abe as Okamoto appealed.